« Back
Do You Need a Mobile-Optimized Website?
October 1st, 2013
---
With the sheer volume of new mobile devices that are being sold and activated, many companies are considering a mobile-optimized website or app. It usually occurs after the owner of the company buys his or her first iPhone and realizes that their website is not cutting the mustard. And worse, their awesome Flash animation no longer works. But, the considerations are slightly different between companies that sell B2C or B2B.
If you are in a business that sells business to consumer (B2C), the answer is a resounding "yes, you do need a mobile-optimized presence." Try checking your analytics. I think you will see a very steep spike in traffic from mobile devices over the last 2 years.
If your company sells B2C, and when considering the above numbers, I think it is pretty clear that a mobile-optimized website is a must. If you do not have a mobile site, take a look at your website on a smartphone. You will see that it is very hard to use. In many cases, the site might be broken. For instance, if you have Flash within your website, that content cannot be seen on an iPhone or iPad. Or, you will notice that some elements of the website are out of place or blocked by other graphics. These issues can vary depending on how your website was developed.
For companies that sell B2B, I still think that it is hard to argue against the need for having a mobile-optimized presence. But, I do recognize that there might be less of a need. However, there is one very strong reason why you should at least consider making the investment. If you or members of your sales team send out emails with links to any web-based content, this is a very good reason to have mobile optimized content. Think about it, how often do you check your email from your phone. And those decision-makers you are trying to sell, they are always on the go, which means they check emails from their phone. You want to make sure that they can see your content in an easy-to-use and engaging fashion. Below are some mobile-optimized websites that we have designed. The phone on the left is the full website. The one on the right is the mobile-optimized version. The ones on the right are much easier to read aren't they?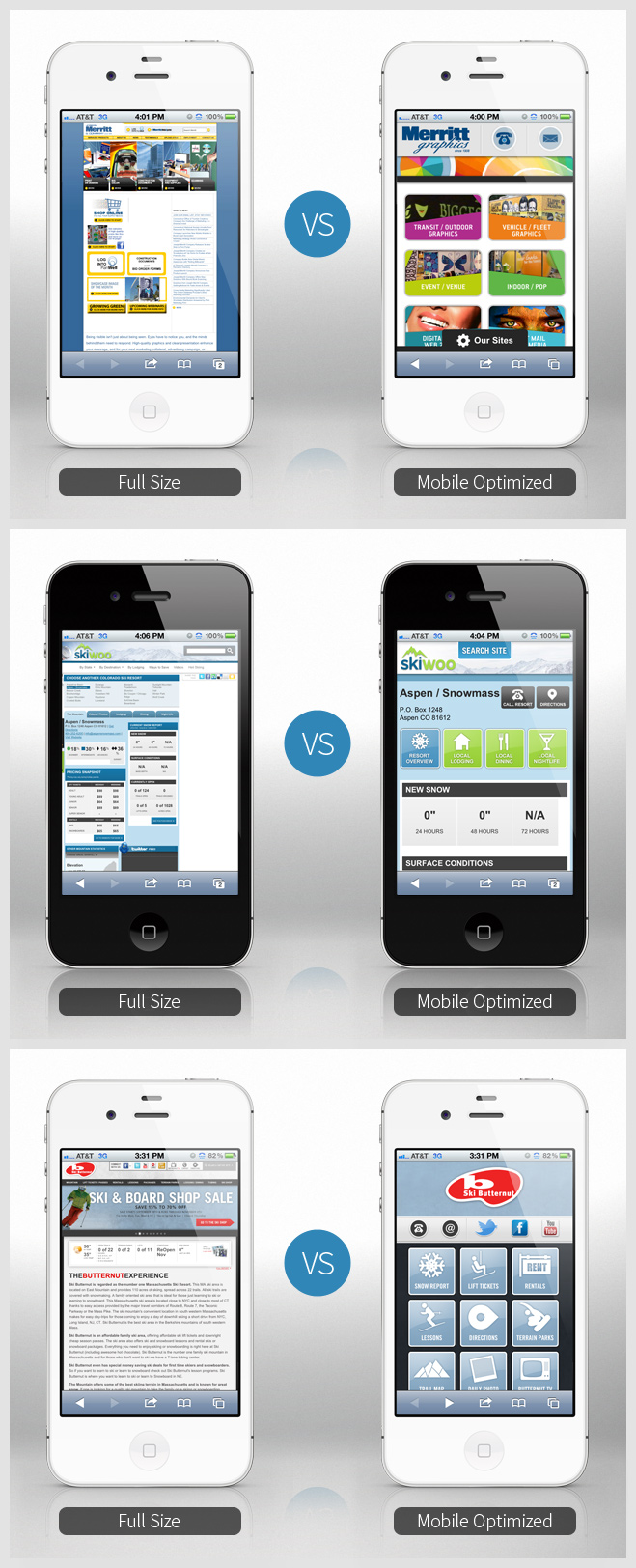 Mobile usage and some projections for the future
You can look at any one of the countless studies that track the growth of mobile usage. All studies show statistics that are staggering. Some studies predict that mobile usage will surpass desktop usage by next year. But really, all you have to do to see the importance of having a mobile optimized website, is look around. Watch how many people are engaging with their phones, checking flights, checking their bank accounts, ordering online, reading their emails, et cetera. The importance of mobile is obvious. I personally know a number of people who do not own a desktop computer anymore. They rely solely on their smartphone for all web browsing, email, and social networking.
Categories
Recent Articles
There are no articles posted this month.